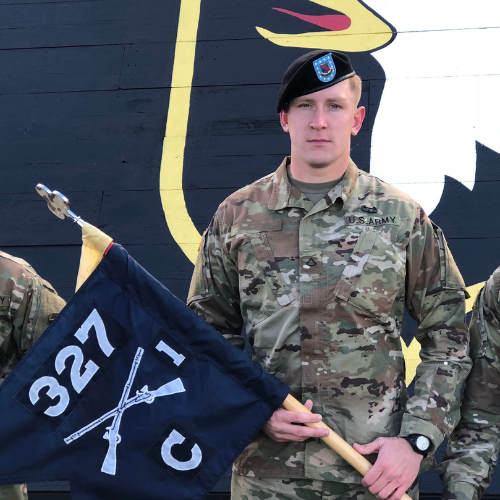 Wade Burchett, a native of Houston, Texas always felt a calling to be a part of something bigger; however, he didn't initially expect to answer that call while studying at The University of Alabama. But nevertheless, he chose to take a break from the college life during his junior year to faithfully serve the U.S. Army.
"That's what led me to the military. I knew I always wanted to do that as a kid. My dad was in the Marine Corps," he said.
He thrived under the structured environment of the Army, and the focus on leadership and brotherhood filled him with a renewed sense of purpose. After four years of dutiful service, Wade returned to the Capstone to finish his degree – a double major in business and marketing with a minor in real estate. However, finishing classes as a student veteran posed its own set of unique challenges. Fortunately for Wade, UA has an award-winning team of professionals dedicated to helping students like him.
The Office of Veteran and Military Affairs (VMA) understands the difficulties student veterans, active service members, dependents and survivors face while in college, and they're specially trained to ease that transition and help these students fulfill their educational goals. Wade shared a few ways the VMA assists these unique students.
"The VMA is absolutely incredible for all the work that they do. They make it easier for you by helping you through all the paperwork, and they point you exactly where you need to go and when you need to be there. It helps us tremendously to make that transition from solider to student as quick as possible," he said.
Whether a student needs help filing a disability claim, registering for health care, filling out the GI® Bill, connecting to campus resources, accessing the VA clinic on campus or solving a personal crisis, the VMA is willing and ready to meet their needs.
Another way the VMA help students transition to college life is by supporting the Campus Veterans Association (CVA), a student organization that provides a network for student veterans, service members, dependents and survivors to come together and bond over their shared experiences in the armed forces. It also functions as a gateway for new and/or returning students to make friends quickly and easily. Wade is an active member in the CVA and appreciations its impact on his experience.
"[The CVA] has its own office and there's consistently anywhere from six to 10 veterans in the office between classes joking and having fun with one another. It's a really great organization that throws all kinds of events for us, including tailgates and things like that," he said.
The VMA hosts and facilitates the CVA and its events, but the CVA is entirely student run by student veterans. It currently supports around 50-70 student veterans who take every opportunity to make the most of college life at the Capstone.
Wade is currently set to graduate in the spring of 2024, and he plans to pursue his MBA at either Texas Christian University or Southern Methodist University.
The VMA has helped hundreds of students like Wade and continues to help even more today. He eloquently summarized their support by saying, "You can tell through their actions they truly do care."
The VMA is located at 3000 Houser Hall and the CVA is located inside its suite at 3001 Houser Hall. They can also be reached at vma@ua.edu or by phone at 205-348-0983. The VMA encourages student veterans, dependents, active service members and survivors to visit and learn about the different ways they can find community and receive any needed assistance.
You can partner with the VMA for programmatic and scholarship support for students like Wade through the work of the VMA.
The Appearance of U.S. Department of Defense (DoD) visual information does not imply or constitute DoD endorsement.