Montana Fouts, a sophomore pitcher from Grayson, Kentucky, was only 14 years old when she committed to play softball at The University of Alabama.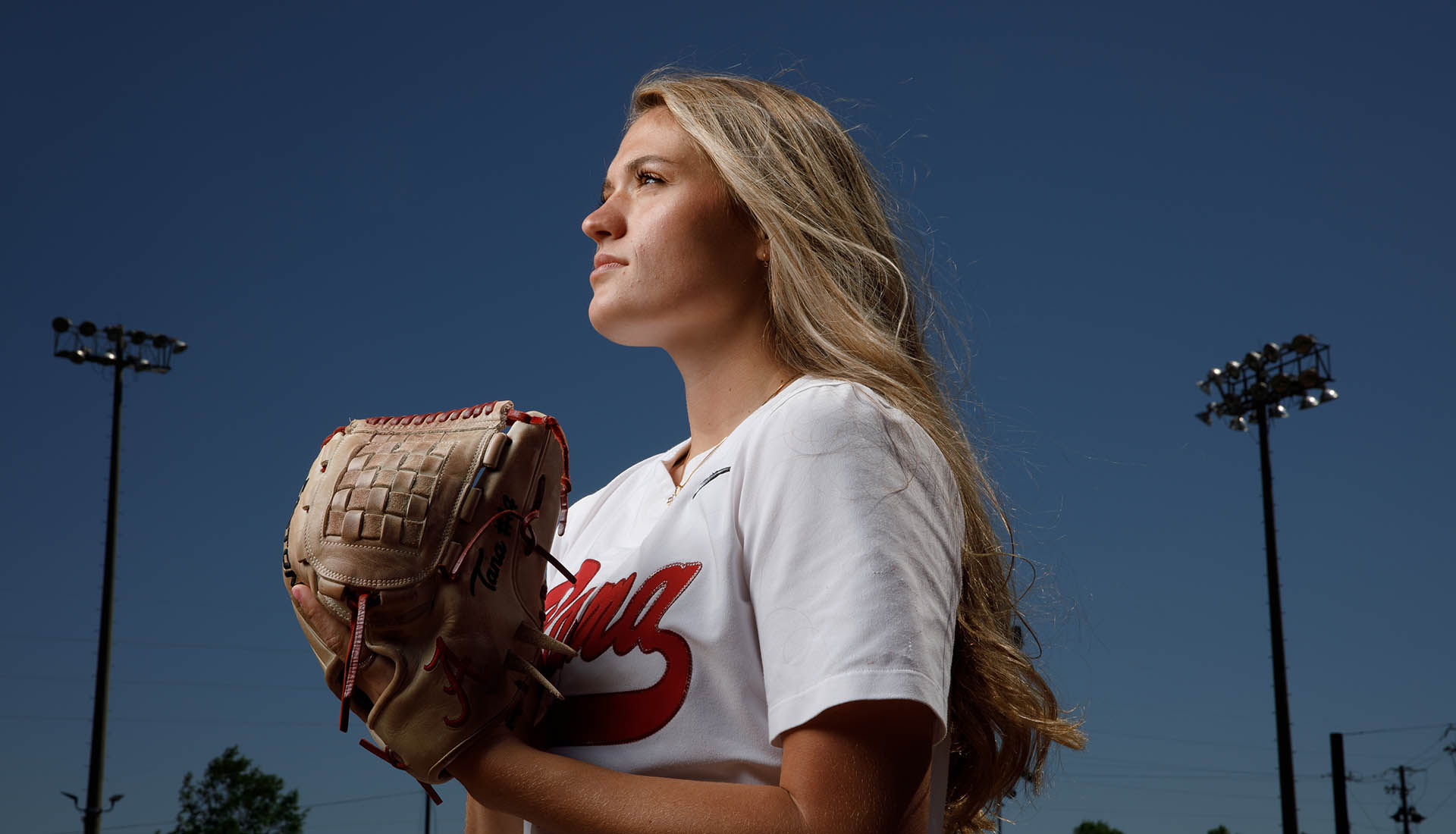 "Alabama was my last school to visit," Montana said. "After UA, I decided not to tour any more campuses. It was a feeling of being here, seeing the team with each other and the person-over-athlete mindset that made the difference."
Montana grew up on the softball field with her father, watching him play from her perch in his bat bag in the dugout. Now, she feels just as at home on campus as she does on the ballfields in Kentucky.
"I go back for breaks, and I come back to another home," Montana said. "They care about you as a person here, and I think that's what shapes me."
An integral component of UA's winning atmosphere for Montana is Rhoads Stadium, which underwent a $3 million renovation in 2019 as part of The Crimson Standard portion of the Capital Campaign. In addition to aesthetic upgrades, the stadium now includes a ticket window, parking and entrance route reorganizations to improve the fan experience. Additionally, the home team benefits from new locker rooms, an updated clubhouse and a third bullpen, all in recognition of their increasing achievements and their fan base.
"We've got quite a few pitchers, and we do a lot of work in the bullpens," Montana said. "Having a third bullpen is allowing us more time to practice. My success is built on the work we put in and the time we spend up there."
Before the season ended abruptly in March 2020 amid the coronavirus pandemic, Montana said the clubhouse was a frequent gathering spot for her and her teammates.
"We were up there all the time," Montana said. "We'd be up there studying until 11:00 at night and be back at 8:00 the next morning, eating together and hanging out."
Montana, who is expected to graduate in December 2022 with a bachelor's in psychology, said she would love to continue playing softball and hopes to earn a place on the Team USA roster. In the meantime, she plans to remain at the University to pursue a master's degree while continuing to teach softball camps.
"Everyone at UA is so willing to help in every situation," Montana said. "Your goals come first. I'm really thankful for everybody who made the renovations possible. We love being in our new space, and our fans love it. It means a lot to us to make them happy."
As The Crimson Standard component of The Rising Tide Capital Campaign continues to flood over UA Athletics, many other stadiums and fields will undergo a transformation similar to Rhoads Stadium. The University of Alabama's enduring commitment to excellence will reinforce our tradition of dominance in college athletics.