For Sullivan Irvine, a sophomore from Mobile, Alabama, attending The University of Alabama has become a family tradition.
"My brother was here, my dad went here," Sullivan said. "I was looking at other colleges, including some Ivy League schools, but when I came to Alabama, I just had a great feeling about it."
Part of the draw for Sullivan was UA's prestigious Culverhouse College of Business.
"I've always loved business," he said. "The business school provided more opportunities than any of the other colleges I toured."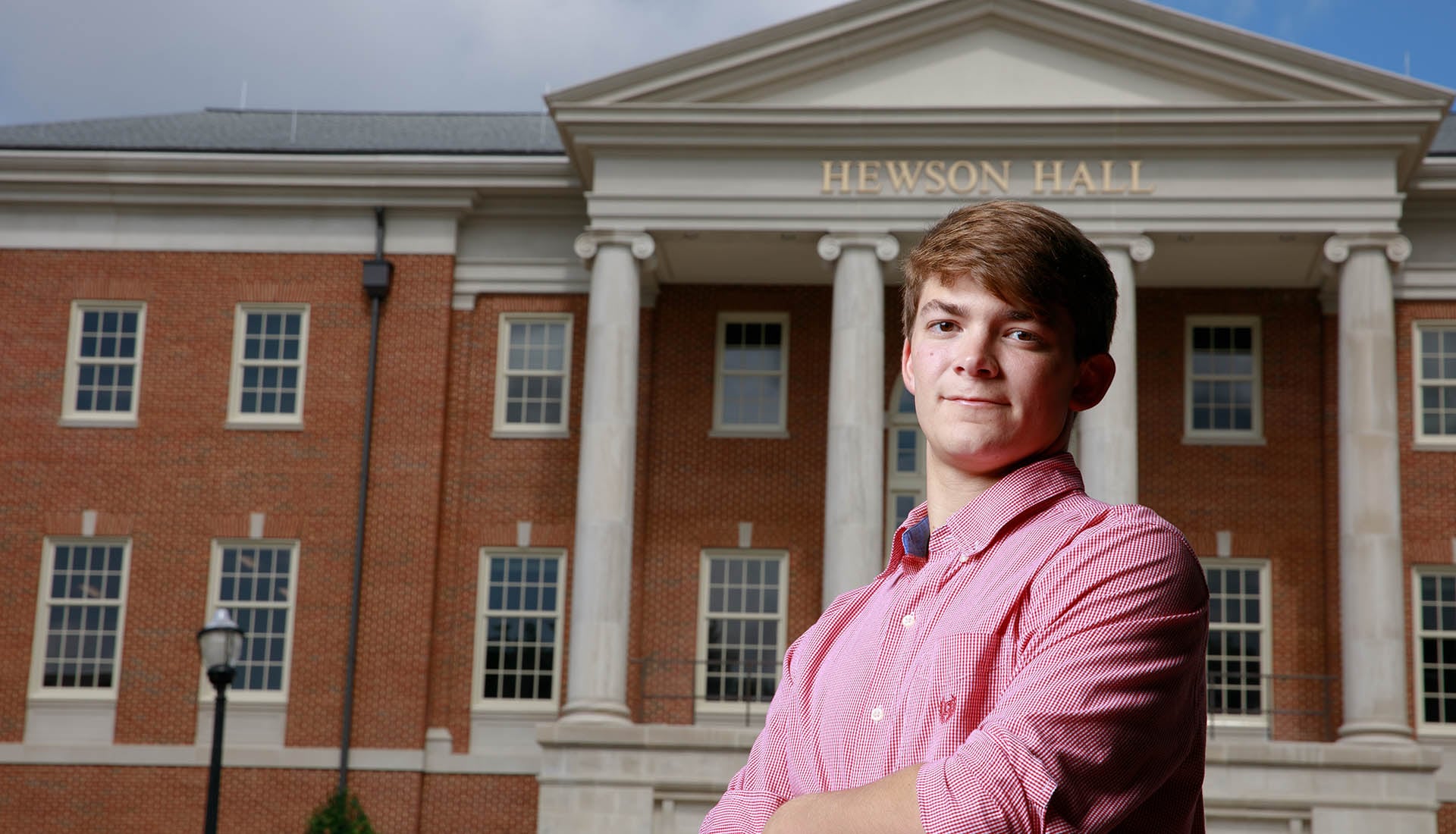 One of the most recent and transformative opportunities for the business school is the construction of Hewson Hall. With 22 classrooms and 31 team collaboration rooms and conference rooms, Hewson Hall will provide students with the spaces they need to position themselves at the top of learning and career prospects.
Sullivan said that currently, there aren't many large classrooms to accommodate team collaboration in Alston or Bidgood Halls.
"Twenty-two extra classrooms will help the students within the business school tremendously," he said.
Furthermore, limited space to work together has been an additional challenge for students during the coronavirus pandemic.
"With social distancing, it's hard to collaborate with anybody in terms of student-on-student communication or with academic studies," Sullivan said. "For one of my classes, we had to have a real estate contract negotiation in a Zoom breakout room. It ended up taking three and a half hours because we couldn't meet in person."
Sullivan, who serves as a Culverhouse Ambassador and a senator for the business school in the Student Government Association, said his campus involvement has allowed him to team up with other students across campus.
"I like the ability to have influence on campus to make UA better for myself and all those around me," he said.
Upon his anticipated graduation in May 2023, Sullivan hopes to work in investment banking or asset management.
"That's the focus right now, so I'm trying to lay the foundation to make those goals possible," he said.
For students such as Sullivan, Hewson Hall will serve as a prime example of what we can accomplish through the generosity and steadfastness of our donors. Building enhancements and renovations poise our students above their peers. Through The Rising Tide Capital Campaign, more than 500,000 square feet of space across campus will be touched by the wave of tradition and excellence in the UA experience.